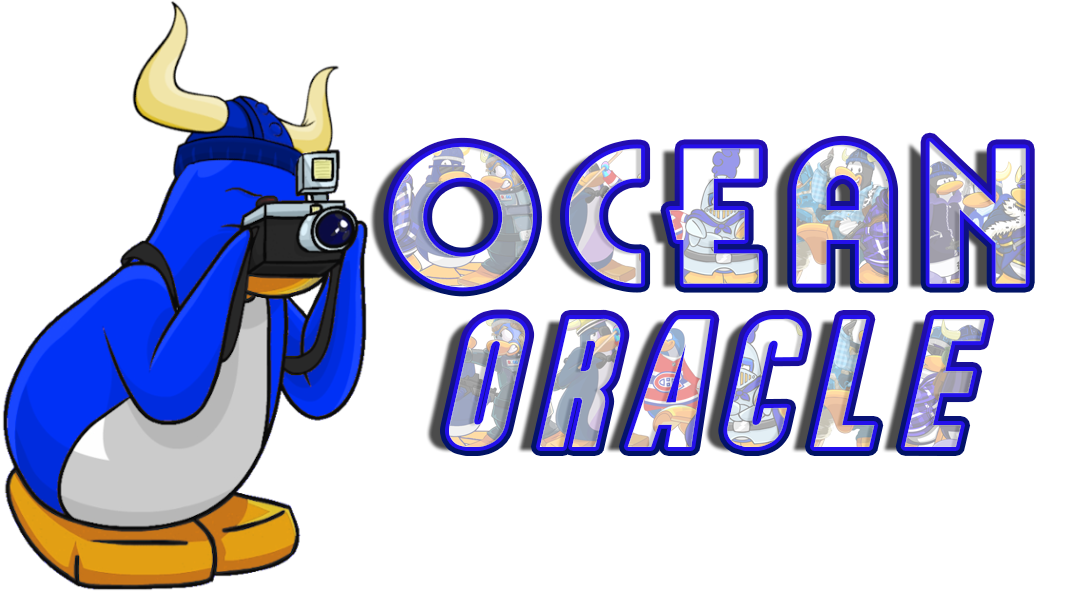 FROSTBITE, Water Vikings Capital – Ghostly greetings, Vikings! It's a new month, which means there's a new catalogue on Club Penguin Rewritten, and it is SPOOOOKY! There are so many amazing outfits, you'll need the coins so don't forget to use the code 'THANKYEW' for 6,000 coins! Need some costume inspo? Then read on!
Page One has a bunch of funky hairstyles like the Black Curls, the Shadow Spike, the High Puff, and my personal favourite, the Spider Poof!
On Page Two, we get a little catty with the Nine Lives, Cat Eyes and a Kitty Costume, as well as a Haunted Pumpkin Basket, Halloween 3D glasses, a stylish Purple Halloween Scarf, and a Cleo Dress & Headdress!
Page Three hosts a royal costume, complete with a Tiara and Princess Costume, as well as a pair of Pegasus Wings, Squeak-Proof Shoes, a Flashlight, a Creepy Doll Costume and Makeup combo, and if you're in a bustin' mood, a Ghost "Catchers" Uniform and Ghost Goggles (for protection from that nasty Psychomagnotheric Slime)
If you wanna get creative with your costume, Page Four is perfect for you! It's got Unicorn Hooves and a Unicorn Costume you could pair with the wings from earlier, a Skeleton Mask and Skeleton outfit, a Spider Queen Dress, Swamp Monster costume (if you're into that sort of Thing), Black and White Pizza & Candy Corn outfits for a treat, and a pair of Ghost Costumes perfect for a haunting.
The Cursed and the Ghost Pirate Costume ARRRRR on Page Five, along with The Chamberlain, a Butler Suit, and  Butler Brow if you're the one doing it (it's always the butler). There's also The Flutterer, a Halloween Scarf, and a Skull Mask if you wanna support WOK (WOKWOKWOK!)
As a special little treat, the page with the Pizza and Coffee aprons also has a Camera and Glasses, as well as TWO hidden aprons – a Blacksmith Apron and a Balloon Vendor Apron! Grab 'em while you can!
And hey, since we're still here, let's cover some more hidden items still available from last month's catalogue! If you're fishing for a new hat, the Fishing Hat is perfect for you! You can also find the Majestic Makeup and Utopia Makeup looks here, which you could pair with the Purple Spring Dress or the Polka-Dot Bandana! And how can you say neigh to this Horse Costume?
On the next page, take The Plunge into some Icy (Eyelashes) waters and grab The Mullet. When you see the Extra Cheesy Costume, you're gonna have some Wide Awake Eyes! Grab the Big Bad Wool Hooves and the Cow Costume, the Pirate Hook, and the Starlet Eyes as well!
On the next page, you can get a suave Sunflower Hat. You can also find the Red Racer and the Yellow Wheeler! Don't forget to grab some car insurance from the Geico Gecko's distant cousin, the Crock Costume!
Okay now I'm tired since Mr Tent Man Revan made me extend this post. So the next page has some Red and White Sneaks, a White Admiral's Hat, The Right On, the Hot Cross Bun, a Breezy Dress, and the Revan Raven Wings!
Hold on to your Life Jacket and keep up with The Trend! Grab a Floppy Hat, the Alumni Jacket and The Spike n' Style. Don't forget to get the Purple Viking Helmet, one of THREE Viking helmets currently available (there's one in the Prize Booth in the Forest and one on page five of the catalogue)!
That's all folks! I can't wait to see what costumes y'all come up with! Have a Spoopy Season!
What do YOU think about this month's catalogue? Let us know in the comments below!
Misty
Vice Commander & OO CEO
Filed under: CPR Cheats and News, Ocean Oracle